High 5 casino is a fun and exciting place to play your favorite social casino games.
With high-quality graphics and sound, you'll feel like you're right in the middle of the action. And with over 200 different games to choose from, there's something for everyone.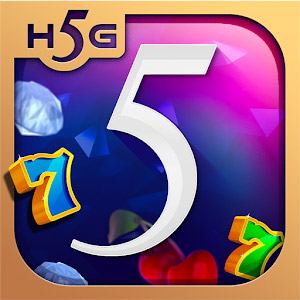 High 5 Social Casino Pros
Wide variety of slot machines
An excellent loyalty program
Numerous free coins are available every day
High 5 Social Casino Cons
No specialized customer service
What is High 5 Casino and what do they offer players?
High 5 casino is a social casino that offers players the chance to play their favorite games for free. There are over 200 different games to choose from, and new games are added all the time. You can also connect with friends and other players, and earn rewards as you play.

Popular Games at High 5 Casino Game Library?
Some of the most popular games at High 5 Casino include slots, video poker, blackjack, and roulette. There is something for everyone to enjoy, and you can even try your hand at some of the more unique games like bingo and keno.
With so many different games to choose from, you're sure to find one that you'll love.
Popular High 5 Casino games and How To Play Them
Da Vinci

High 5's Da Vinci slot, which is themed after the legendary artist Leonardo da Vinci, has inspired a slew of imitators.
Da Vinci is a conventional 3×5 reel slot with 20 paylines featuring pictures of some of da Vinci's most renowned paintings, including the Lady with an Ermine, Portrait of a Musician, and the Mona Lisa. Whether or whether you manage to land enough butterfly bonus symbols, you may still win up to 300 free spins thanks to features like tumbling reels, which function similarly to cascading reels, and random bonus triggers.
The return to player percentage for Da Vinci, a slot machine with minimal volatility, is a solid 96.2%. Your spins will take you to the museums in Paris, Milan, and Krakow that are home to da Vinci's famous paintings, and each one will provide you with a new clue that might help you unearth a previously unknown masterpiece.
Beer Barrel Bash

Beer Barrel Bash is an 80-line, 5×4-reel slot machine with a focus on Oktoberfest. Fans may enjoy steins of beer, enormous pretzels, and bratwurst while watching the game. High 5's unique double and triple split symbols increase players' chances of winning by adding extra icons to win combinations on regular paylines.
In addition, it has High 5's enduring loot feature, which awards locked wilds and double or triple split symbols for the following two spins. With a whopping 96.5% RTP, this holiday slot gives you lots of opportunities to celebrate Oktoberfest without draining your bank account.
Golden Knight

The Golden Knight slot machine, available on both the 4×5, 20, and 40 payline variants, is High 5's pinnacle medieval-themed game. Scattering dollars allow you to play 40 lines, plus an additional 40 lines in the bonus round, stacked wilds increase your chances of winning, and free games give you the chance to win up to 98 free spins.
Compete in a tournament of champions to win the heart of the princess and a large sum of money. All of the visuals, animations, and sound effects in Golden Night are top-notch.
High 5 Casino Payment Methods
Even though High 5 Casino is a social casino, you may still deposit money to increase your coin balance. To acquire free coins on the site, all you have to do is play games and wait around for the daily spin of the wheel.
Since there is no actual money involved, there aren't a ton of deposit methods available. You may use your PayPal account, a credit card (Discover, Visa, MasterCard, or American Express), or a debit card to buy coins on the site. You won't have to worry about any delays in receiving your coins since your order will go through instantly.
High 5 Casino Customer Service
Honestly, this is one area where the High 5 Casino social casino could need some improvement. Since no real money games are available, the site's user base is less likely to need as much support as the ordinary online casino.
Looking at the site a bit more, it seems there is nothing in the way of specialized customer service. There was no direct email address or live chat function for questions. On the other hand, you may contact High 5 Casino's social casino through a few specific social media platforms.

To get assistance with your money or for any other reason, this is your best bet. They have social media accounts that you may use to get in touch with them. We recommend their Facebook page instead of their Twitter feed since they seem to post there more often.
There isn't much more you can do to contact them, however. We ran a test of how soon they respond on Facebook and can confirm that we received a reply the same day we contacted them.
To put it another way, you won't have to wait days for an answer, and there's a good chance you'll get one sooner.
Is High 5 Casino Licensed?
High 5 Casino is licensed to operate by the New Jersey Division of Gaming Enforcement, the UK Gambling Commission, the Malta Gaming Authority, and the Gibraltar Regulatory Authority.
The data you enter into the High 5 Casino social casino is encrypted with many layers of software, making it almost unreadable to hackers and other third parties.
There is no doubt that High 5 Casino, a social casino, takes player security extremely seriously.
Biggest wins in High 5 Casino History
In 2015, a player from Nevada placed a $1 bet on the 88 Fortunes slot machine and won a staggering $8,818,000 jackpot.
To date, this is the largest win in High 5 Casino's history.
The player, who wished to remain anonymous, said that they had been playing the game for about an hour before they won the life-changing amount of money.
High 5 Social Casino History
Upon inception, High 5 Games started producing some of the most played slot machines in the business. Seven years later, in 2005, High 5 was celebrating its 10th anniversary after having expanded its goods to more than 50 nations across the globe.
When High 5 released Da Vinci Diamonds in 2008, it immediately became the company's most successful slot machine ever. The next year, the group marked the release of 200 games with a party. High 5's Noah's Ark was honoured as IGT's Online Game of the Year in 2010, and the following year, the company released two more IGT smash successes, Golden Goddess and Black Widow.

In 2012, however, management recognized they needed to diversify the company's client base by creating games for many publishers. High 5 sought to expand its company beyond only making slot machine games for IGT. High 5 maintained its partnership with IGT but looked to broaden its reach by forming new businesses and alliances.
High 5 Casino games may be found at land-based, online, and social casinos in over 150 countries across six continents, marking the company's 20th anniversary in the gaming business in 2015.
High 5 moved onto the 58th and 59th floors of the brand building One World Trade Center in the same year. This 87,663-square-foot office building has a spacious foyer with a studio, design facilities, and meeting rooms located around the periphery.
With the release of its 250th game in 2018, the firm has continued to expand its collection.
The firm has grown to include more than 450 games and various partners. Several online gaming companies use the High 5 VAULT remote game server to host players who enjoy a wide variety of popular High 5 games.
For the greatest benefits, Join Club 5 Loyalty Club
On their website, High 5 Casino Social Casino has already shown how quickly free money are distributed. They provide more than simply the ability to spin the wheel, as you may enroll in their VIP program, Club High 5.
You will move up the ranks as you accrue more points. There are a few different methods to get points. The more you play, the more points you'll get—15 every day, to be precise. For every $1 you spend on the website, you may get 50 points.
Additionally, you may increase your point total by giving pals virtual presents or by updating Facebook with your gaming achievements.
Here are the several levels you may reach and what each one offers:
Silver – 2x Coin, 5% Daily
Gold – 3x Coin, 10% Daily
Platinum – 4x Coin, 20% Daily
Ruby – 5x Coin, 30% Daily
Sapphire – 6x Coin, 50% Daily
Emerald – 7x Coin, 100% Daily
Diamond – 8x Coin, 150% Daily
High 5 Casino App
Two of the "most popular slots in casino gaming history," according to the firm, are its own Black Widow and Golden Goddess, both of which were introduced in 2011.
In order to create the most advanced online casino slot games the world has ever seen, H5G credits its success in part to the eclectic and diversified team of specialists they employ, which includes mathematicians, artists, programmers, and software engineers.
With more than five million downloads and a 4+ star rating, High 5 Games is the most popular slot machine on Facebook.
High 5 Games is now accessible on mobile devices, with versions made particularly for iOS and Android (iPad2 and newer, iPhone 4 and newer, and iPod Touch 5th generation with iOS6 and better).
How to collect your winnings from High 5 Casino
Players can winnings from High 5 Casino in a number of ways. The most popular way is to simply redeem the credits for cash prizes.
Other ways to collect winnings include:
Gift cards
Sweepstakes entries
Merchandise
Discounts on high 5 Games products
Players can also choose to donate their winnings to a number of charities.
Concluding – Why High 5 Casino is one of the best social casino experiences online today
We were really pleased with what we discovered after carefully reviewing the High 5 Casino social casino games and the website itself.
You should search elsewhere if you want to play at a casino where you can really win money. But if all you want to do is play the casino for enjoyment, then this is the place for you. One of the greatest social casinos in the US right now, with a ton of different games to select from and daily free coins.
FAQs
Is Stake.us available in the US? 🇺🇸
Stake.us is a social casino that is legal in the majority of the United States, and it is the only Stake product available to Americans. At the time of writing, Stake.us is legal to operate in the United States with the exception of Idaho, Nevada, New York, and Washington; but, as we have seen in the realm of real-money online gambling, this might change!
Is Stake.us legit?
✅
Sweepsteaks Limited has awarded a gaming license to the firm that operates Stake US, proving its legitimacy. This online casino adheres to the security measures mandated by the licensor, including the use of encryption to safeguard your financial and personal data. In addition, the games are examined by an outside agency to guarantee that they are designed with random outcomes.
Who owns Stake US?❓
Stake.us is licensed and governed by Sweepsteaks Limited, the owner of Stake.us. You may visit Stake.us business's website for contact information and further details.
How old must I be to create a Stake.us account?
The casino only welcomes adult players over the age of eighteen (18). It is the full duty of the player to investigate the applicable rules and regulations of the specified country about age restrictions for online gaming.
Can I get a welcome bonus on my first deposit at Stake.us?
No, regrettably not! Currently, they do not give a first-deposit bonus.