House of Fun will be perfect for you if you're seeking a social casino that forces you into action right away. You have the option to choose the free welcome bonus that will be given to you when you join up.
Considering how few casinos provide it, this function is very great. Will it be 1,000 coins or 100 free spins, then?
Given that House of Fun has more than four million Facebook fans, they must be doing something right. We believe that everyone who enjoys social gambling will be more than glad to spend some time in our home.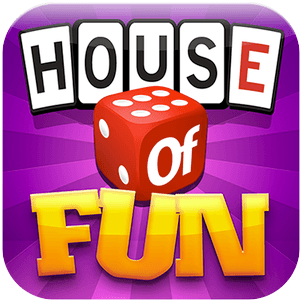 House of Fun Social Casino Pros
Large social media and Facebook following
There are about 200 Playtika slot machines
Numerous specialized smartphone applications are available
Makes it incredibly simple to begin playing right away
Excellent graphics and a Vegas vibe
House of Fun Social Casino Cons
There are no table games available; only slots
Weak compared to other sites' bonuses
Gaming Options and Software

House of Fun provides more than 200 fantastic online slot games that are powered by Playtika. As we highlighted in our review of the House of Fun casino, this is a social casino where just slots are offered.
You have a ton of options here, with several appealing games that function well and a wide variety of themes to pick from. Additionally, House of Fun boasts that they introduce new slots every week on their app sites. They're always trying to update with new extensions!
Daily Promotions & Bonuses
When a new player registers via our House of Fun review, they have the option of receiving 1,000 coins or 100 bonus spins. This may not seem like much considering that casinos will be giving out incentives in the millions of coins by 2022. The smaller maximum bets, however, really put this social casino more or less on level with the majority of other ones.

Players at House of Fun may get free bonus spins every three hours by just launching the app. The rewards become bigger as you play more. Every time you play House of Fun for free, your free coins will increase hourly and dramatically until you win the enormous eighth-day reward. You can always get free House of Fun coins since the process starts afresh after eight days of nonstop play.
Play our slots every day and keep a careful eye on our social media pages to ensure you never miss a House of Fun offer. Consistency is essential for obtaining free coins.
Keep a watch out for sporadic bonuses, as well as the ability to share and receive cash with pals. You may even increase your cash by spinning the Wheel of Fun. For the sake of this review, it sounds very good, but overall, we'd say that the incentives offered here aren't exactly mind-blowing.
Free Coins And Spins At House Of Fun
Even though playing slot machines is one of the most common kinds of entertainment in the world, there have historically been some challenges.

First, visiting a casino usually requires extensive preparation and travel arrangements.
Second, if you aren't cautious, inserting coins into a slot machine in a typical casino may quickly drain your bank account.
Thankfully, House of Fun free spins are available to take the hassle and tension out of your time playing casino slots and add some much-needed excitement and good times. Our free House of Fun coins make sure you always have access to your favorite slot games since they are released every three hours. With House of Fun freebies, you'll never be bored again!
Free Spins at House of Fun
Nothing is more enjoyable than receiving free things, particularly when they relate to a game you like. You may use your House of Fun bonus coins to get free spins on the slots when you redeem them. Your entryway to never-ending enjoyment is our hourly bonuses. Play one of our stunningly lifelike digital slot machines to see whether your luck holds.
Are you a little bored? Use your free spins to spend the time in an exciting way on your preferred mobile device.
How do I acquire free coins for House of Fun?
Do you want to get free coins on House of Fun? Look nowhere else! Follow all of our House of Fun coin giveaways on Facebook, Instagram, and in our daily emails with House of Fun free coins. You can easily get free coins by following us on social media, which will allow you to constantly know when new HOF free spins become available.
By subscribing to our daily bonus emails, which always feature free coins, you may turn into a bonus collector for House of Fun. Every day of the week, House of Fun offers fresh opportunities to play for free. Believe us. You don't want to overlook any of our extra deals.
Community of House of Fun
Given that Home of Fun has more than four million Facebook fans, we assume that it must be a pretty big house! They often post on Facebook, mostly currency giveaways and raffles, and the bulk of their postings get hundreds of responses.
Additionally, they have profiles on Twitter, YouTube, and Instagram, although none of these are updated often. However, a lot of social casino sites just use Facebook, so it's not that unusual. If you wish to invite anybody over to join you at the House of Fun, you have the option here to play with your pals, which is always a lovely touch.
Registering with House Of Fun

As we have explained, using your Facebook account to log in is the simplest option. Don't worry, this prevents the app from automatically posting to your wall. You may also register using your email address if you'd want to keep your Facebook account separate.
You may play on Facebook and mobile devices simultaneously, or you can play on each platform independently. You know that your personal information and financial information are subject to the strict standards of Facebook, Apple, Google, and other companies like these since any purchases of extra coins are performed on Facebook or via in-app transactions.
On The Go Mobile App

We're happy to find that the mobile app has access to every game available on the desktop version. It's a significant plus in the House of Fun smartphone review since this isn't always the case. You'll never get bored with the more than 180 games available on your smartphone.
By installing certain applications from the appropriate app store, you may play on iOS or Android devices. No matter which platform you pick, nobody is left out.
The majority of the reviews are really favorable, and we're happy to note that there don't seem to be any significant issues with the House of Fun app services.
In the end, the verdict is in
Players who are used to earning millions of credits upon registration may find the lesser currency value to be off-putting. Luckily, it really has little impact on the experience until you get into it. Our specialists were forced to write a highly favorable House of Fun online casino review as a result.
If you're sick of the same old social casinos, the Playtika games that are offered here look and play well. They're a genuine breath of new air. It's simple to believe that 20 million gamers can't all be incorrect, and we tend to agree.
Everyone may enjoy a simple and enjoyable communal gaming experience with House of Fun.
FAQs
How to get free coins on House of Fun?
Collecting them from the game lobby every hour will earn you Free Coins. Notifications, emails, and presents from your pals may also include free coins. Follow House of Fun on Facebook and Instagram to get additional goodies.
When you win at House of Fun, do you get actual cash?
No, the emphasis of House of Fun is on the sheer excitement of thrilling slot machines and rewarding tasks. Amazing virtual gifts that provide real-world fun.
Can I get House of Fun free coins online?
Yes! In House of Fun, there are several methods to gain Free Coins. You may earn Free Coins in the manner that most fits you thanks to daily Challenges, spectacular Quests, and a variety of thrilling slots. Remember to take advantage of the freebies available in the gaming lobby, through email, via alerts, and on the Facebook fan page.